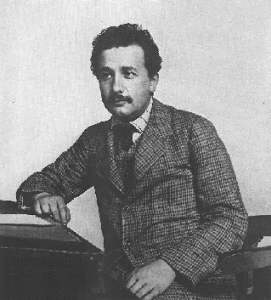 Those aren't my words about the great theoretical physicist. They're his.
Unable to find work after graduating from the Zürich Polytechnic with a teaching diploma, he wrote to his sister and said that it would have been better had he never been born.
Can you imagine?
The job he eventually got as a lowly clerk at the patent office in Bern gave him what he really needed besides a paycheck: time to think. He put his time there to good use, indulging in his thought experiments, and writing the three papers that changed how we understand the universe. Even after these papers were published, they weren't universally accepted. It took time. Many years, in fact.
The key thing was, he never gave up.
For those of you still waiting tables or tending bar or working retail, hang in there. If you have talent, the only other thing you need is a belief in yourself. And a little patience.