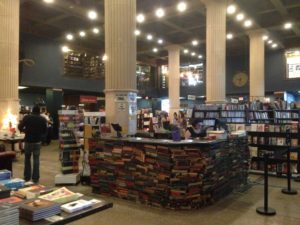 Located in the the first two stories of an old bank space in downtown Los Angeles, The Last Bookstore isn't just a place to pick up a classic or the latest best seller.
It's also theater—in a quasi-Victorian, steam-punk skin. Books have been turned into cashier's desks, wall sculptures and even a tunnel on the second floor. To the left as you enter, art and photography books have their own section, located in a soaring white space whose walls are covered head-to-toe in paintings of every size and and containing just about every subject matter you can think of.
The main space contains most of their fiction collection. Upstairs is everything else: science ficton/fantasy, mystery, crime, travel and history.
Once you leave the spacious first floor main space and venture up into the mezzanine, hallways jog this way and that, letting you get lost in nooks and crannies filled with books (and a few tiny booths selling handmade crafts). There are comfortable chairs for sitting and reading scattered everywhere. The Last Bookstore apparently wants you to come in, look and stay a while. No argument there.
It's a wonderful counterpoint to the sterile, one-size-fits all mall esthetic you find in the typical Barnes & Noble store.
The store says it buys lots of books and records, but I had trouble locating the used books. All I found was a tiny used-books section toward the stairway at the back of the main space. No matter.
That, I can overlook because this place is so unlike any other bookstore I've seen. So successful is the look and feel of this store, it's become a must-stop for hip tourists visiting the resurgent downtown.
So get on the Metro, head downtown and go back in time. This might be the look of future bookstores.
The Last Bookstore, 453 S Spring St, Los Angeles, CA 90013, phone (213) 488-0599