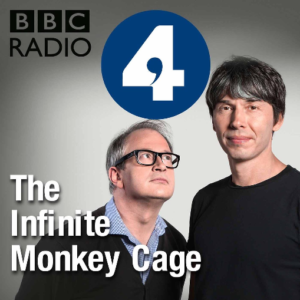 I listen to a lot of podcasts from the BBC. The World Book Club, In Our Time: Science, In Our Time: Culture, World Book Club, and Kermode & Mayo's Film Review to name but a few.
But one of my favorites is the Infinite Monkey Cage, a regular program on BBC's Radio 4.
Hosted by physicist Brain Cox and his witty, comic sidekick Robert Ince, this show is a hands-down winner.
The show is billed as an irreverent, witty look at the world through the eyes of a scientist.
Pretty accurate.
The hosts take on a topic for each episode and discuss it with the help of a panel of experts and not-so experts, usually a comedian to keep things entertaining. You learn, you think, you might even laugh. Done as only the British can do.
Well worth the time.
Others think so too, since it has a huge following across the world, attracting some well-known names in the fields of science, entertainment, and people who are just plain well-known. Including Monty Python member Eric Idle, who composed and sings the sign-off song.